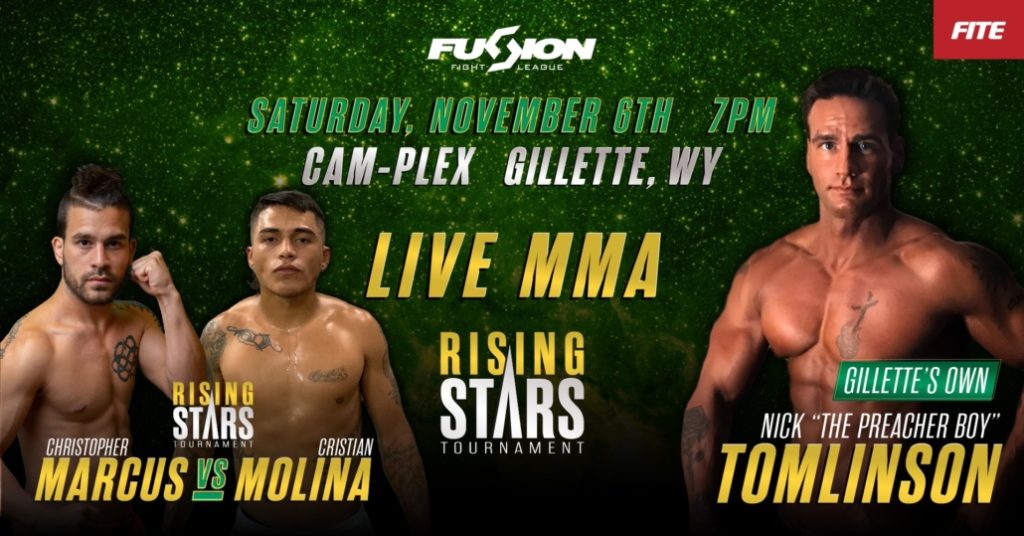 SBG Idaho MMA athletes Santiago Moreno and Isaiah Haney represent the Tribe this weekend at Fusion Fight League: Tomlinson vs Vogel, Saturday, November 6 at the Cam-Plex Events Center in Gillette, Wyoming!
Moreno (2-3 MMA, 0-0 FFL) returns to the cage after a 10 year hiatus when he takes on Jesus Escarsega (2-1 MMA, 0-0 FFL) in an amateur featherweight fight. During that time Moreno has matured mentally and physically, while continuing to improve his skills in all areas of fighting. Moreno also earned his BJJ Blue Belt in an epic ironman last weekend! We are stoked for Santiago to showcase his improvements in the cage this weekend!
Haney (0-0 MMA, 0-0 FFL) makes his MMA debut on Saturday against fellow debutant Kevin Meglemre (0-0 MMA, 0-0 FFL) in an amateur middleweight contest. Haney has shown tremendous dedication and improvement in just the short amount of time training with us and we are excited to watch him compete for the first time!
The event begins at 7pm MST. to purchase tickets go to https://www.fite.tv/watch/ffl-beston-tomlinson/2pabv/ or for those watching back in Idaho, purchase the stream on Fite TV, https://www.fite.tv/watch/ffl-beston-tomlinson/2pabv/.
As always, please show support to our athletes, and remember, if you are looking to compete, or maybe you're looking to get into the best shape of your life with a Tribe that supports you 110%, Click the "Let's Get Started" link at the top of our newly-launched website, https://sbgidaho.com page to set up your gym tour and FREE introductory lesson with one of our world-class coaches! See you soon!